Need a tasty & nutritious veggie side recipe you can make with dinner tonight?
Adding a super healthy side, salad or dressing to dinner is a snap! Download a recipe for a simple side you can make in minutes that's packed with Calcium, Protein and 100% Deliciousness!
simply click the button to the right and get instant access
'GOOD FOR YOU' TIPS
DO IT YOURSELF. SAVE MONEY. SAVE TIME. UPCYCLE.
It's fun to DIY. It feels good to save money. It's essential to have more time. And the planet needs you to upcycle. Learn how you can eat, live and keep your home clean with natural ingredients from these tips.
RECIPE VIDEOS
WATCH AND LEARN HOW EASY IT IS TO MAKE RAW FOOD, FRESH PRESSED DRINKS AND DEHYDRATED GOODIES.
Sometimes you need a visual, right? Me too. I cannot tell you how many times I've turned to YouTube to watch different videos to get the basic understand for how to achieve the results I want. Thanks for watching my videos.
PERSONAL COACHING
Need help through a rough "foodie patch"? I am here to help. Read more about my coaching programs that help you meet your wellness goals.
Without really trying to, I lost 17 lbs and I'm so grateful to Michele for being there to listen and inspire me when I needed it. I really needed to refocus and made that a very public mission. Thanks so much for doing what you do and being there with a message I needed.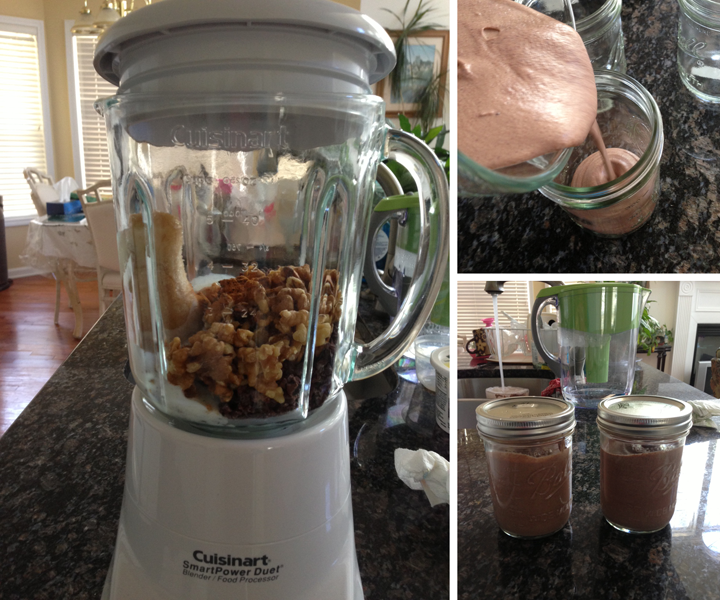 WENDY
Private Coaching Client
I have Type 2 Diabetes and Michele dramatically helped me lower my blood sugar level with her juice cleanse program. It was one of the most memorable experiences.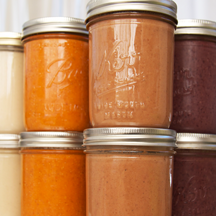 CORINA
Juice Cleanse
MY THOUGHTS ABOUT FOOD...
Food is a spectacular and dynamic part of life and nature and I delight in making it functional, beautiful and delicious. It is such a huge part of our society, families and daily survival, and if we don't have food, in a week or two we would starve to death. Food is our greatest dependency and it has become painfully and economically apparent that food and health are linked – for better and for worse. Our connectedness to food pervades other important parts of our lives too. Like our finances. As the cost of food continues to rise, we must stay vigilant on understanding the effects of food on our health.

That said, there's no ONE way to eat to achieve optimal health. There are so many unpredictable and changing variables that affect our food supply, food choices and food nutrition. So, adding raw food, fresh juices and whole foods are simple ways to integrate dietary changes - primarily rooted in a plant based diet - that can be thrifty, delicious and beneficial to health.

This website is for EVERY eater. Omnivores, Vegans, Vegetarians and Raw Foodies! I hope you enjoy your time here and I hope you try one of my recipes. One of the most exciting experiences you can have with food is making something new and then making it YOUR way. And remember, whenever you can, support your local and family farms so that you can enjoy each season's harvest while it lasts. Keep it easy and add raw food everyday!

GOT A QUESTION OR NEED HELP WITH SOMETHING? JUST EMAIL ME!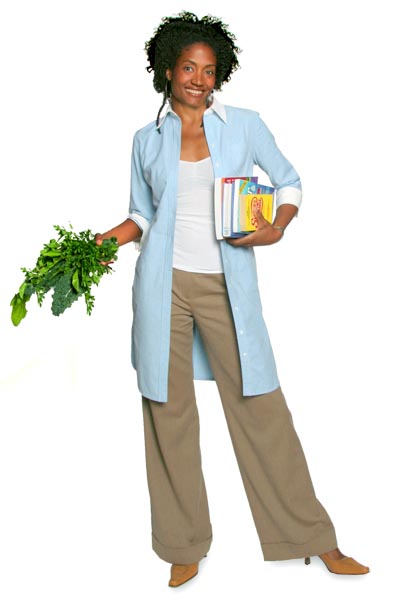 STAY CONNECTED...
NEED MORE RAW FOOD RECIPES FOR SALADS, SIDES, DRESSINGS & DRINKS?
Get your copy of my 9"x7" 96 page, full color raw food recipe book. It is for EVERY eater and can be ordered directly from my publisher, or gift it to a friend who wants to eat healthier today!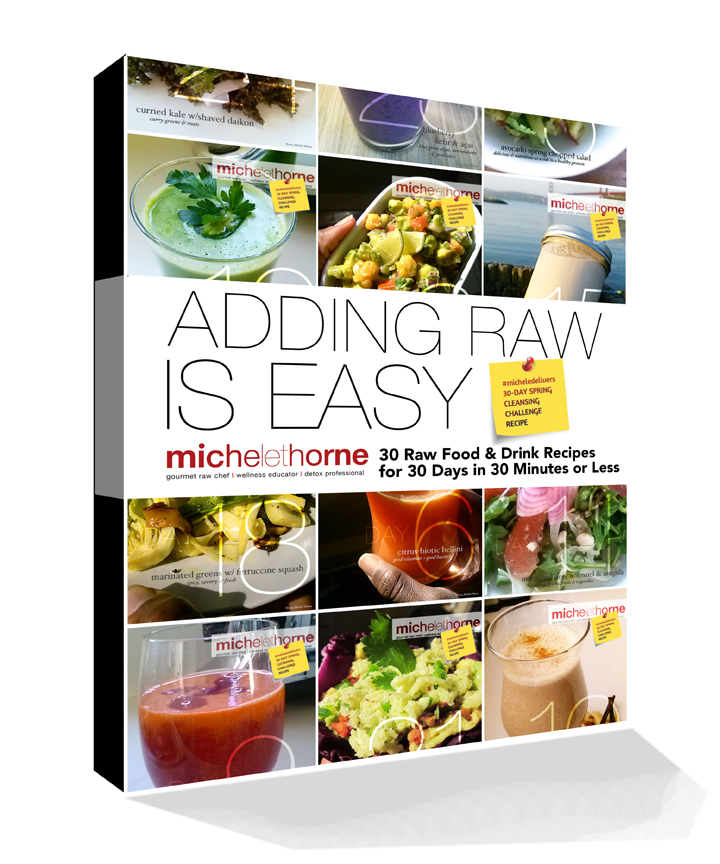 Or maybe you need a recipe right now? Download the PDF version of my book.
Do you have a "reader"? Get a version compatible for Kindle readers.
Copyright 2014 - Michele Thorne - All Rights Reserved