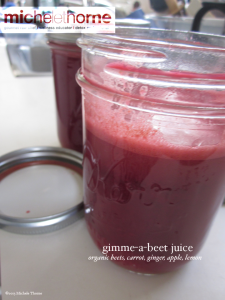 Makes 32 ounces. Winter's roots-n-ting make this juice one of the best blood cleansers and immune boosters you can make. Remember, use organic produce because you don't want toxic chemicals and pesticides in your juice. Also, scrub these roots well to rid them of any unwanted dirt or germs.
4-6 large carrots
1 red beet
2 granny smith apples
1/2 cucumber
1/4 organic lemon wedge (with peel)
1 T organic ginger (sliced)
BUSY PEOPLE TIP : The best thing you can do to save time is to prep all your ingredients the night before. You can keep them in an air tight glass container in the fridge overnight.
UPCYCLE TIP : If you juice the beets first, you can save some of the pulp and dehydrate it to dry it out completely. Once dried, you can pulverize it in your coffee grinder or blender on a high speed and store in an air tight glass jar. You can sprinkle the powder in any smoothie for an added nutritional boost of nutrients and color! You can also use the pulp to add to a raw beet soup. Recipe to come soon…
NUTRITION TIP : Beets contain something called Betaine. You can read more about the benefits of this compound in the post I wrote, but just know that beets do a great job at removing toxic substances from the cells – especially environmental toxins.
BOTANY INFO : Beets (Beta Vulgaris) It is derived from the Sea Beet, growing wild off the coasts of North Africa, Europe and Asia. Beets are root vegetables with green leafy tops, both of which are edible. Unlike Sugar Beets that are cultivated for beet sugar and animal feed, Red Beets are cultivated for human consumption.