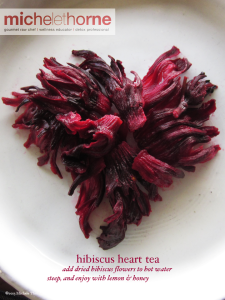 Show your heart a little more love, especially when love is in season. Hibiscus flowers are not just beautiful, but they are nutritiously delicious. Originally from Angola, this flower has been used for centuries in many cultures to support heart health and circulation. Hibiscus flowers are known to contain important bioflavonoid phytochemicals, alkaloids, anthocyanins and quercetin which all contribute to and promote a healthy heart.
Just take a few dried leaves and pour hot, but not boiling water over the leaves. You can leave them at the bottom of the cup, compost them or even eat them. Add a little squeeze of lemon and a teaspoon of honey for a delicious semi-sweet tart of a tea. A handful of leaves can easily make two cups. Careful though, the pigment found naturally in these flowers can quickly stain, so if you want to keep your light colored clothes hibiscus stain free, just make your tea naked. <3
A little self love never hurt anyone…enjoy!