JUICING CHEAT SHEET
JUICE IS GOOD FOR YOUR BODY, IT SHOULD BE EASY TO MAKE AND IT SHOULD TASTE DELICIOUS. PERIOD.
Juicing is easy but it can often be a challenge to turn healthy ingredients into a beverage that looks AND tastes delicious - especially if you don't want to spend your WHOLE paycheck. Use this cheat sheet to organize juicing, ingredients and processes.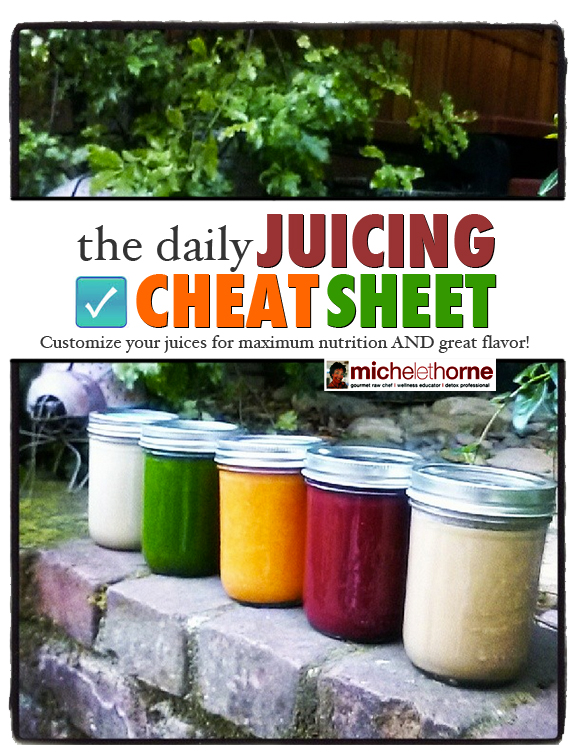 THE DAILY JUICING CHEAT SHEET
Now you don't have to spend any more of your precious time trying to make juices that may lack the nutrition YOUR body needs. Most people simply make the "kitchen sink" juice out of whatever's in the fridge at the risk of it tasting awful.

This DAILY JUICING CHEAT SHEET is a done for you checklist that allows you to identify ingredients that deliver the most nutrition based on your own personal nutritional needs. Simply fill in the blanks, make a few easy choices and juice the best of the season. Give your body the essential stuff it needs everyday.

Get creative and make the juices you'll love EVERYDAY for a fraction of what you'll pay for it at the juice shop. This is the best daily juicing cheat sheet you'll find out there. It comes with a few amazing recipes to boot. Download your free copy now.
BEYOND JUICING BASICS - TAKING THE NEXT STEP
CREATE A JUICING SCHEDULE
If you're experienced at juicing, then it's time to take things to the next level. Create a consistent schedule for juicing that fits into your lifestyle.
TRY A QUARTERLY JUICE CLEANSE
Use the season's harvest to boost your energy and use the power of foods to support your organs and cells the way nature intended.
ADD RAW FOOD TO YOUR TABLE
Juice cleansing is one way to give your body impactful nutrition, but adding raw food is just as easy and adds fiber to keep those "pipes" clean.
READY TO GIVE YOUR BODY A BOOST?
No problem. I've got you covered. Check out my DIY Juice Cleanse book as well as my other books to learn more.
MORE JUICE CLEANSE & RAW FOOD TESTIMONIALS
I had a really great experience during the detox. The smoothies and drinks kept me satisfied enough that I never felt famished or deprived. I felt like my face looked clearer and I was in a good mood the whole time...and then I got to eat Michele's tasty raw food! Yum...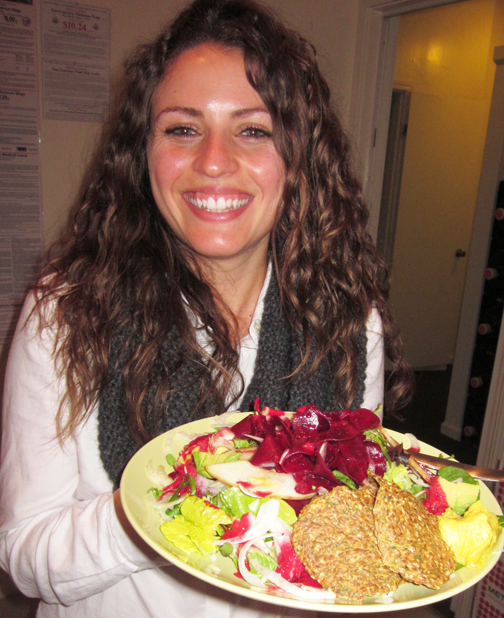 Jenny K.
Juice Cleanse 2009
I would actually say doing the cleanse was life changing. It gave me the motivation I have been needing to adjust my eating habits for more optimum health and then Michele gave me very specific guidance and some valuable tools to continue to eat well. For me it was just about eating but food prep as well. Now we have Michele's recipe book to use and I am totally enthusiastic about trying her recipes and creating new dishes of my own. I have not been this inspired to prepare food for a long time and am certainly eating better than I ever have.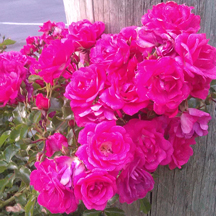 Janet B.
Juice Cleanse 2015
CHECK OUT MY YEAR IN REVIEW