JUICING & RAW FOOD CHEAT SHEET
JUICE & RAW FOOD ARE GOOD FOR YOUR BODY,
SHOULD BE EASY TO MAKE AND SHOULD TASTE DELICIOUS.
Take some of the mystery out of the process with this checklist. Make sure you have everything you need to make adding juicing or raw food as a healthy habit easy...any day, any time. This cheat sheet will help you get organized, shop wisely, store food properly and prep your way to healthy juicing and raw food success.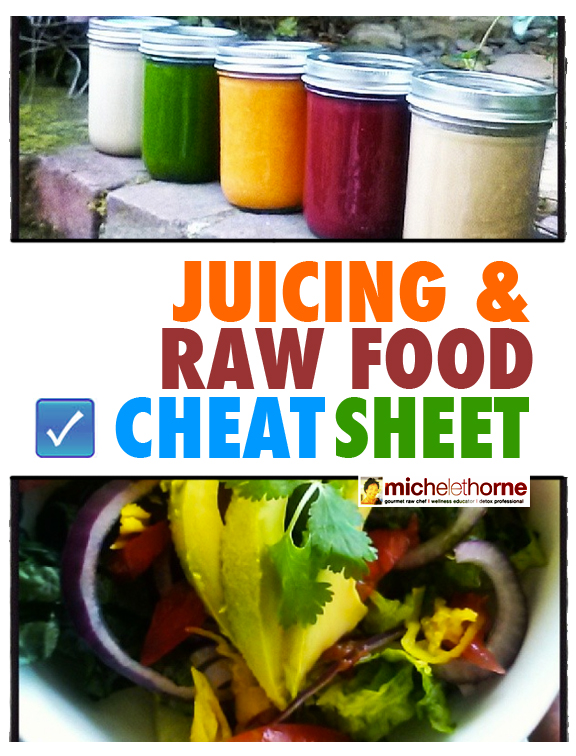 A MINDFUL CHECKLIST TO MAKE JUICING & RAW FOOD A SNAP!
This JUICING & RAW FOOD CHEAT SHEET is a done for you checklist that allows you to get organized, get what you need and identify ingredients that you'll need to have around to make juicing and adding raw food an easy, healthy habit.

Get the skinny on the things you'll need in the kitchen to make the preparation process smooth. You'll learn the four most important ingredients to have around if you are juicing, blending or making raw food. All delicious and super easy.

Give your body the essential stuff it needs everyday the EASY way and cheat a little. Download your free copy now.
Tell Your Friends You Got Yours...
DON'T SKIP A BEET...
KEEP IN TOUCH, GET MOTIVATION & STAY INFORMED.
Sign up for my weekly newsletter to get information updates on seasonal food, recipes and lots of other things you should know...