+ LIFE HACKS
BECAUSE SOMETIMES WE JUST NEED LIFE TO BE QUICK & EASY
Below are some of my favorite life hacks that either save money, save time or both! They are easy to do, take only a few minutes and keep more money in your pocket for useful stuff, like more healthy food!

Life Hack : The Stank Sponge
Have you ever bought a new sponge that suddenly started to stink like mildew? I mean just overnight it STANKS!
I know, it's so gross but you don't have to throw that sponge away. You can freshen it up easily and here's how. You'll need three common household items. First, you'll need some hydrogen peroxide to kill the bacteria. Second you'll need baking soda freshen it up and third you need some white distilled vinegar or use my DIY natural surface cleanser which helps kill mold. I'll leave the link for that recipe in the description below. Don't throw 'em away…save 'em from the stank. Let's do it!
STEP ONE
 - place the sponges scrubbie site down into a container. Then pour about a cup of hydrogen peroxide all over the sponges – make sure each is completely saturated. Almost immediately you'll hear it start to bubble – bye bye bacteria.


STEP TWO
- take about 3-4 tablespoons of regular baking soda and sprinkle evenly over the tops of the sponges. I like to use my fingers to press the baking soda down to the bottom layer of the sponge because that's where the freshening happens.


STEP THREE
– spray the vinegar solution all over the sponges. It will start bubbling immediately so be sure to have at least one window open for ventilation. Continue to press everything all in together, then flip them over to make sure the entire sponge gets treated. Spray a little vinegar on the scrub side and then I like to put some soap on the scrubbie side too because it can get a little janky from oil and grease. Squeeze your sponges together and rinse under hot tap water really really well and voilà – the stank has left the sponges! Dump the water and you're left with a fresh smelling bacteria free sponge, just like that.
You're done within minutes and it cost you less than a new one with little to no effort!
Life Hack : Non-Toxic Cleaner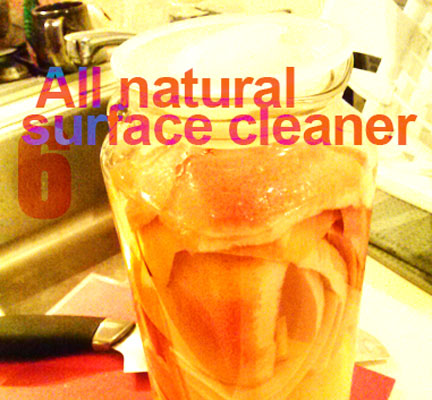 CLEANING WITH VINEGAR : Grapefruit Surface Cleaner
If you're anything like me you want to live a cleaner life, at home, in the office and out in the world. If you're like me, you've read all the ...
Read more
Get Your FREE Copy of My
Juicing & Raw Food Cheat Sheet!
THE BENEFITS OF OF USING NATURAL CLEANERS AT HOME
BETTER FOR THE ENVIRONMENT
Every year, millions of gallons of toxic waste enter our waterways, soil and air. We can each do a little bit everyday by using DIY home cleansers made of all natural and biodegradable ingredients.
NO TOXIC CHEMICALS AT HOME
If you have pets or small children at home, keep them safe & clean without toxic chemicals in your home care products. Make "petro" free cleaners without artificial substances quickly and easily.
SAVES MONEY & TIME
By using common household items, you can dramatically reduce the cost of using all natural, non-toxic cleansers at home or in the office. DIY and save hundreds of dollars and hours of time.
NEED SOME JUICY INSPIRATION?
No problem. Get inspired to try adding raw to your plate or cup this season with some new recipes!