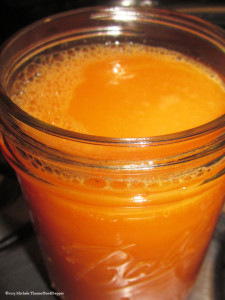 Makes 32 ounces. Fall harvest oranges and fall carrots give this juice it's betacarotene, but the fresh turmeric gives it a powerful boost. Make sure to use organic produce, because you don't want to be drinking toxic chemicals and pesticides. Oh, you can leave the skins on the turmeric and carrots, but de-skin the oranges. You can simply cut the skins off, leaving a little bit of the white pith.
4-6 juicing oranges
8 – 10 medium sized carrots
1/4 organic lemon wedge (with peel)
1 T organic ginger (sliced)
1 tsp fresh turmeric root
BUSY PEOPLE TIP : Oranges can be messy, but if you wash and prep your carrots, ginger and turmeric the night before, you can keep them in an air tight glass container in the fridge. Or, if you're up late preparing and want to just run out the door in the morning, use your juice press to juice everything and immediately seal place your juices (in glass containers) into the freezer. Once you remove them from the freezer on your way out the door, they will remain fresh and cold after sitting at room temperature for an hour or so. Fresh is best, though…
UPCYCLE TIP : If you juice the carrots first, you can save some of the pulp. That's where most of the fiber will be, and you can use the pulp from the carrot juice to make some delicious wraps. Download the recipe below.
RECYCLE TIP : The peels of the oranges can be used to make some of the best homemade house cleaner available. Just cut the rinds off the oranges, place them in a glass jar that has an airtight closure. Fill up the jar with the rinds and pour white distilled vinegar over them and let sit for 48 hours. Strain and transfer the liquid into a spray bottle and clean up those household germs…naturally.
NUTRITION TIP : Carrots and oranges both are great sources of carotene (which becomes Vitamin A when absorbed by the body) and Vitamin C. Turmeric is also a root that is well tested and known to have anti-inflammatory properties.
BOTANY INFO : Carrots (Daucus) This plant is cultivated for its enlarged, edible root and is commonly known as the Carrot. The original species, from which the Carrot was developed, came from Europe and is known as Queen Anne's Lace. 1
1. http://www.botany.com/daucus.html
[divider style="7″]