30 days, 30 NEW raw food recipes…Join the challenge. There's still time…
I invite you to join the 30 Day Spring Cleansing Challenge which officially launches TODAY and you'll have access to ONE raw food recipe each day, complete with my infamous "upcycle" and "time saving" tips. They'll be all kinds of recipes for soups, salads, sides, juices, smoothies, sauces, desserts, snacks, marinades and on and on…you know, things you can use and integrate into your daily meals. All you have to do is join the group! You can, of course, invite your friends to join too! Anyone can join. The more the merrier. 🙂
Now, I bet you're wondering…"So, what's the challenge?"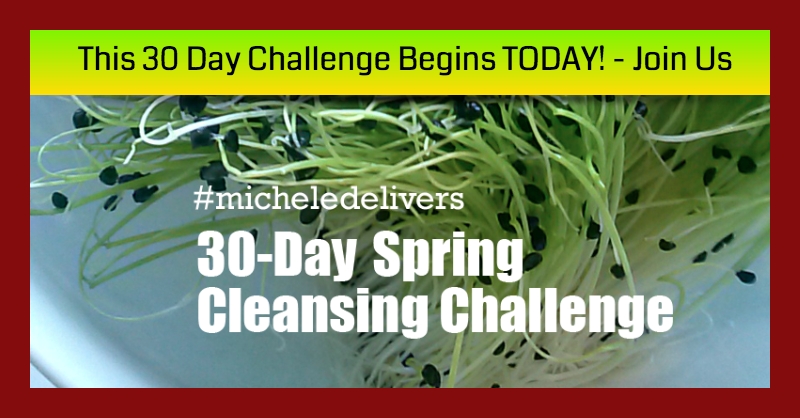 Here's the deal in a nutshell :
For 30 days the MAIN challenge will be adding raw food to your meals, EVERYDAY. The challenge is about consuming nutrient dense, alkaline forming foods along with your meals to meet the changing needs of your body…in a strategic way.
You'll learn 30 NEW recipes. Each day for 30 days, you'll have access to one NEW Raw Food Recipe. It will be a recipe for a side, a salad, juice or smoothie, spread, soup, marinade, dessert – you name it!
After you've made the recipe, the next part of this challenge is sharing your results. Make the recipe and share it with YOUR family at YOUR table with whatever you're eating and then bring your experience to the Facebook Community.
Lastly, this challenge is about doing something differently. You may already be a raw foodie or a vegan/vegetarian or an omnivore. Doesn't matter. Wherever you are in your food journey is right where you are supposed to be and is totally your business. And maybe you've decided that now is the perfect time…and IT IS!!!
JOIN US. I look forward to seeing you on the inside…