These cabbage nori rolls are my raw food twist on the traditional sushi roll. Filled with fresh, raw veggies and a parsnip sun-dried tomato paté, then wrapped in nori and cabbage you'll want to make a few more for later. They are a great addition to any dinner party, or make a great appetizer to the rest of your "Asian" themed dinner. This recipe makes 6-8 rolls. Ideally, you'll need a vegetable peeler, a food processor, a small pot (for wilting the cabbage), a cutting board and a sharp knife. You can make them in less than 15 minutes (minus soaking time). This recipe does NOT contain nuts.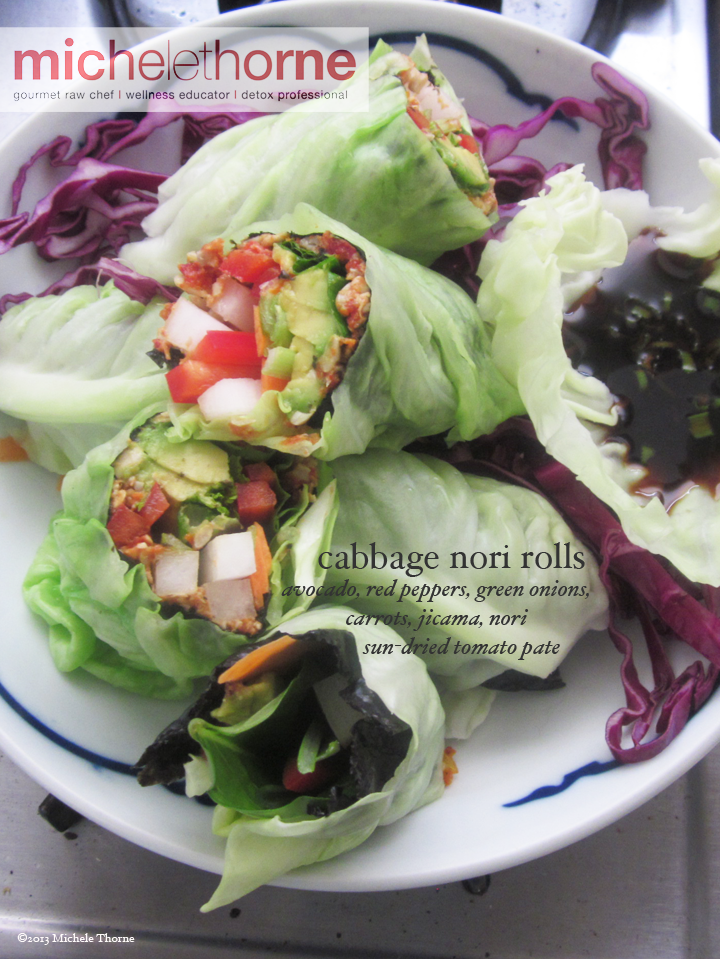 THE FIXINS
Make sure to prep all your fixins to be about 4" in length.
1 Red Pepper (seeded & sliced lengthwise)
1 Daikon Root (peeled & cubed lengthwise)
1 Carrot (peeled into 5"
1 Fresh Herbs (cilantro, mint, basil)
1 Ripe Avocado (halved and cubed)
1 Bunch of Scallions (cleaned and cut lengthwise; reserve one or two for dipping sauce)
1 Cucumber (cleaned & cut lengthwise)
Raw Nori Sheets (of course you can substitute toasted nori)
6-8 Cabbage Leaves (whole, but separated from the head)

THE PATÉ
1 Parsnip Root (medium - peeled & roughly chopped)
1/2 C Sunflower Seeds (sprouted in 1 C water)
1/4 C Sun Dried Tomatoes (partially rehydrated in 1/3 C water)
1 Garlic Clove
1/4 t Ground Coriander
1/2 Lemon (juiced)
2 T Olive Oil
Salt & Pepper to taste

THE DIPPING SAUCE
1/2 C Organic Shoyu
1 T Zested Fresh Ginger
2 T Orange Juice
2 t Agave or Sweetener of Choice (Optional)
1/4 C Chopped Scallions
Hot Pepper Flakes

DIRECTIONS
First you'll want to get your sunflower seeds and sun dried tomatoes soaking. In separate bowls, soak the seeds and tomatoes in filtered water. Ideally, you should have your sunflower seeds soaking for 4 hours prior to beginning. To prep your veggies, wash and peel your fixins, cut them to a desired uniform length and set them aside on your cutting board in an assembly line.

Next, place all of the ingredients for the pate into your food processor and pulse until you have a thick, semi-chunky pate and season to taste. Place in a bowl and set aside. Set up your work area and take 3 nori sheets from the bag and halve them by just gently folding them in half and tearing. You'll need sized pieces of nori to match the size of your cabbage leaves. Then, in a sautée pan, heat two cups of water until hot, but not boiling. Place the cabbage leaves into the hot water one at a time for only 3-4 seconds and place on a paper towel and pat dry. You will need to work quickly to put the roll together.

Next, place the cabbage leaf down, curved side up, and place the nori sheet on top of the cabbage. Then quickly spread 1-2 tablespoons of the paté onto the nori with the back of a spoon. Place 2-3 fixins of each kind horizontally, but toward the side of the roll closest to you. Begin to roll the sushi, holding the cabbage between your thumb and forefinger while tightening the fixins as you roll in the direction heading away from your body.

Once you've come to the end of the cabbage, allow the roll to sit, seam side down on the cutting board for a few minutes while you combine all the dipping sauce ingredients into a small bowl. Mix the sauce thoroughly. Cut rolls in half, dip and serve!

NEED MORE IDEAS FOR CABBAGE?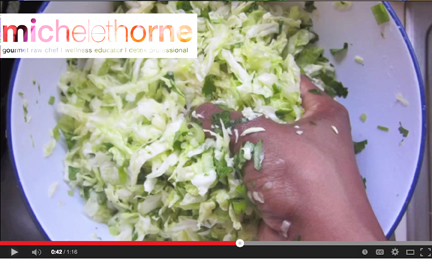 CABBAGE RECIPES : Raw Food Side Salad and Video
Cabbage recipes are easy to make and very healthy, but cabbage itself often gets a bad rap for the stink it leaves behi...
Read more