If you like to "do-it-yourself" and you like cabbage, then you'll love this DIY raw sauerkraut recipe. A few weeks ago, I wrote a post about pooping, probiotics and the importance of having a healthy gut, so instead of just talking the talk, I figured I'd take you on the walk with me.
I think fermented foods are amazing and can be easily integrated into a daily meal plan. These days, probiotics come in various forms, including shelf stable probiotics, but there are also fresh probiotics including fermented milk products (yogurt, kefir, lassi) and fermented tea (kombucha), but I especially love the ones I can make at home. I enjoy trying new recipes and I've made raw sauerkraut over the years, but I really love making raw sauerkraut at home because I get to take part in an amazing process that not only tastes delicious but is healthy, very easy and very economical.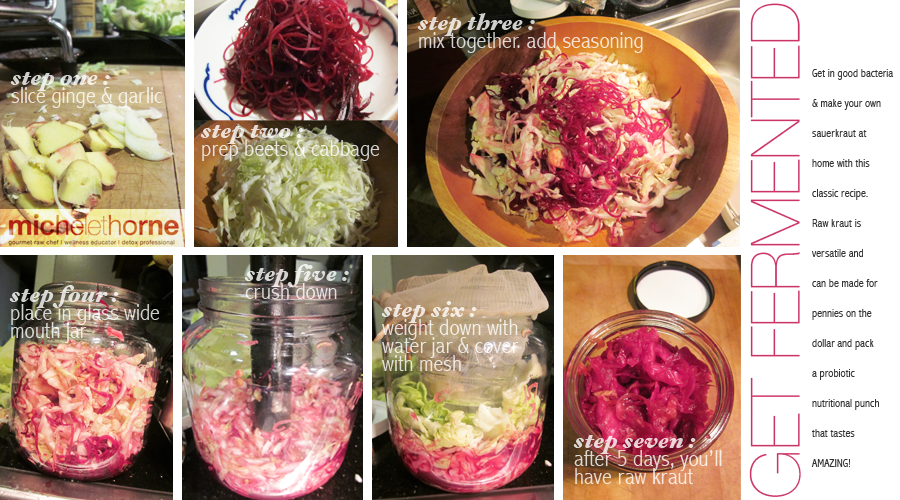 In the early 1990's, I purchased a book called Wild Fermentation – The Flavor, Nutrition, and Craft of Live-Culture Foods
 and it introduced me into the wonderful world of fermented foods and the recipes are easy to follow.  What fascinates me about making fermented foods at home is the scientific nature of it all. There is bacteria growing when food ferments that can either support your body's health or jeopardize your body's health – depending on how well you manage the process. You are essentially making a brine for the cabbage and other ingredients to ferment in for a few days, so make sure your environment is cool and clean and free of dust. And for all you pet owners, make your fermented foods in an area of the house where there is a lower risk of your kraut being contaminated with pet hair or dander. Trust me, I love my dog, but this can turn into a disaster. Just keep the area (and air) as clean as possible.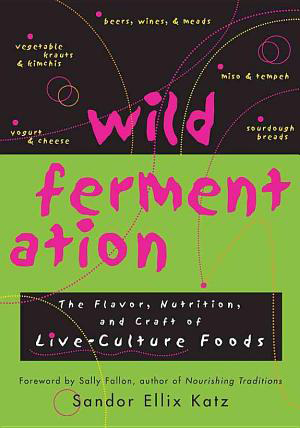 You'll need a ceramic crock or a wide mouth glass jar, a mesh nut milk bag or cheese cloth, and something heavy to weight down the cabbage during the process. You can use a sealed glass jar filled with water. It is important that the weight is clean and non porous. Make sure to follow the instructions carefully and remember, you're working with bacteria and things can go wrong. At the end of the day, raw sauerkraut is a wonderful addition to a salad and you can add it atop your all natural hormone free, grass-fed hot dog! Go raw dog! That was crass. Sorry mom.
Ruby Red Raw Sauerkraut Recipe – This recipe will make a little over 1 pint of finished raw sauerkraut.
1 Small Head of Green Cabbage (save 3-5 whole leaves, wash and set aside)
2 Red Beets (spiralized or shredded)
1 Burdock Root (peeled & sliced)
1 C Ginger (sliced)
2-3 Cloves of Garlic (peeled and sliced)
1 1/2 tsp of whole spice (Coriander, Dill, Fennel or Celery Seed)
3 Tbsp of mineral salt
OPTIONAL : Add a kelp or kombu to get the benefits of sea vegetables. You can also add apples and herbs like juniper berries or schizandra berries for additional flavor and nutrition.
DIRECTIONS : Peel the burdock and garlic. Thinly slice the burdock, garlic and ginger and set into a bowl. Spiralize or grate the beets and chop the cabbage thinly and place in bowl with burdock, ginger and garlic. Add your seasoning and salt. Place the mix into your crock or glass jar and press down. (I use the tamper from my Vitamix). The salt will break the cellular wall of the cabbage and the water will be released, but the cabbage will remain crisp. The salt will also allow the cabbage to ferment without rotting.
Place the whole cabbage leaves atop the crushed cabbage beet mixture and weight it down. Place the mesh between the weight and the cabbage to keep any lint or bugs out and leave the crock or glass uncovered in a dry corner of the kitchen for the duration of the process. Press on the weight every hour or so until the brine covers the cabbage. If there isn't enough brine, just simply add another cup of salted water (1 tsp salt to 1 cup of water). Make sure the salt is completely dissolved before you pour the extra water into the brine.
Every day, press the weight down. If you do see mold or "scum" just scrape it off, rinse the plate and the weight, dry them and place them back into your crock or glass jar. The sauerkraut is protected by the brine so as long as mold is not in the brine, it should be ok. Taste the sauerkraut along the way. It should be tangy and will increase in its "tanginess" as the days pass. I usually let mine ferment for 4-5 days for a full, robust flavor. Also, if you want to keep the kraut going, you can reserve 1/4 cup of the brine to start the next batch!
That's my raw sauerkraut recipe. If you try this recipe, share your experience below. Keep your gut healthy…it's easier than you think. Happy fermenting!