So, I really needed a smoothie today. I wanted to just work with what I had and since I needed to take a trip to the grocery store, I didn't have that much on hand. I kind of tuned into what I felt like my body needed and came up with this delicious smoothie recipe. It's not 100% raw, but it can easily convert to a raw smoothie. It's delicious either way…now go on and bust some nuts in your smoothie today!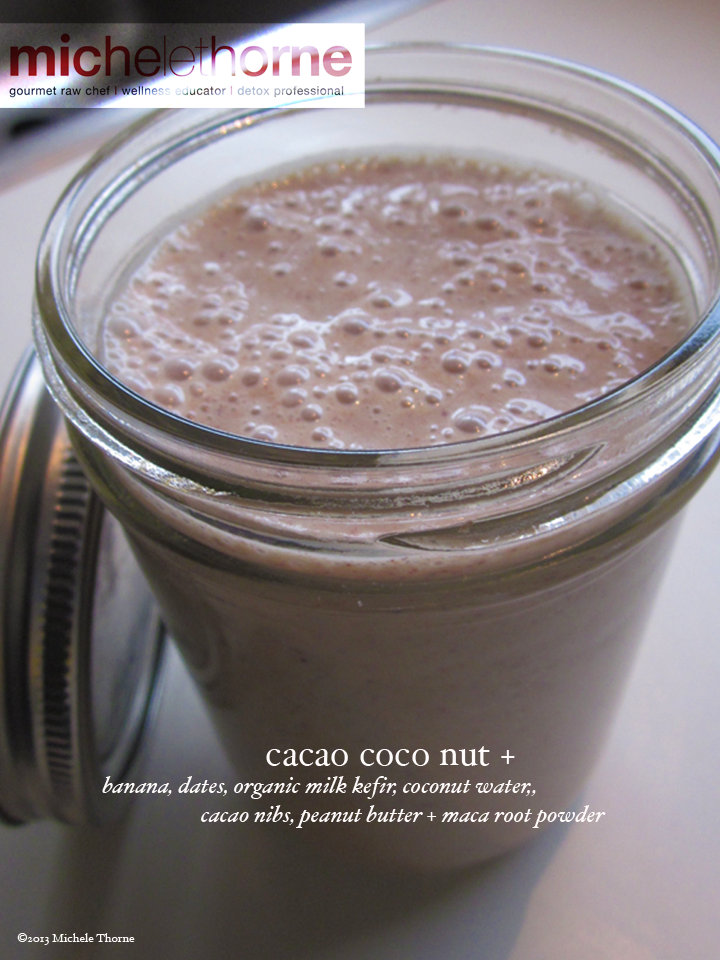 1 ripe banana
1 C plain organic milk kefir (or 3/4 C fresh coconut flesh)
1 C coconut water
1 1/2 T raw cacao nibs

1 T peanut butter (or raw nut butter)
3 pitted dates
1 1/2 tsp organic maca root powder

1 t black strap molasses
pinch of mineral salt
3-4 ice cubes (optional)
If you're a raw food purist, you can easily make substitutions and enjoy the minerals, proteins and amino acids that are packed into this delicious smoothie recipe.
DIRECTIONS : Add all ingredients to blender and blend on high for 2-3 minutes. You want to blend it enough so the cacao nibs and dates become smooth.
NUTRITION TIP : This smoothie is powered with protein and amino acids from the maca, nut butter, coconut and black strap molasses. You can even add your favorite protein powder for an added boost. You're also getting good, digestible fat with the coconut and nut butter to assimilate the fat soluble vitamins D and E from the nut butter and kefir. The kefir will also give the added benefits of probiotics and healthy bacteria for the gastrointestinal tract.
Enjoy immediately!