Sometimes you just want to enjoy the best of an avocado season harvest and make some delicious (cold) soup recipes. Avocado is one of the healthiest fruits you can find and I can't wait to use them! When peppers and avocados are in season they are absolutely delicious.

This Spicy Avocado Soup has the added nutrition of seaweed and algae without tasting "fishy". Try making this creamy blended soup and get a bunch of minerals, good fat and antioxidants in, all in under 10 minutes!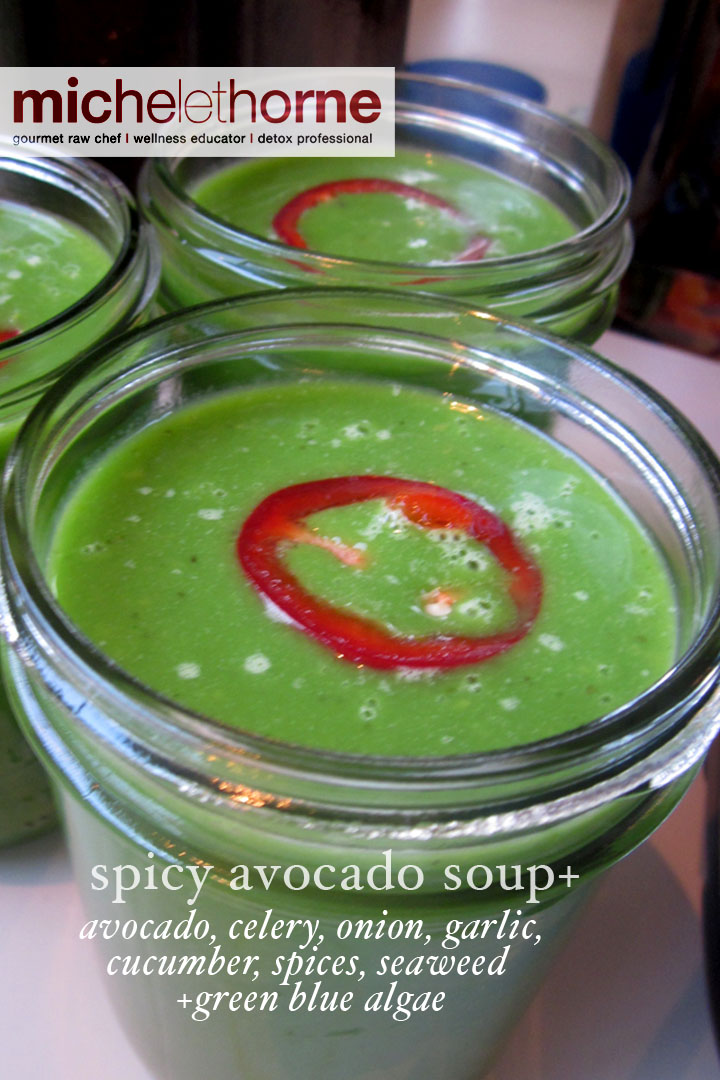 Spicy Avocado Soup

©2014 Michele Thorne

Makes enough for two 16oz servings
INGREDIENTS
1 Avocado, ripend, pitted and de-shelled

1 Cucumber

2 Celery Stalks

1 Apple

1/2 Garlic Clove

1 T Shallot or Onion, chopped

1 T Jalepeño or Serrano pepper   

1/2 Lemon Juiced

2 T Cilantro leaves & stems

1/4 t Blue Green Algae

1/2 C Coconut Water or Filtered Water

1/2 t Kelp Flakes or Dulse Flakes (though dulse will make the soup more brown)

Salt to taste (you may need more salt if you use coconut water)
DIRECTIONS 
Ideally, you can add everything to the blender and blend until soup is creamy and the consistency of a smoothie. If it's too thick, simply add more water or coconut water. I like to juice the celery and even add some kale to it and add the liquid to the blender with everything else. I don't like to drink the tough celery fibers and I can add a pinch more nutrition by adding the kale too. It's up to you. You can refrigerate for a day, but unless you like cold soup enjoy this one immediately and garnish with a ring of red pepper!
Like This Recipe? Share it!