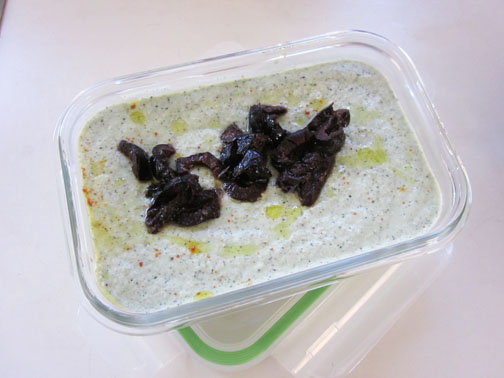 Makes 2 – 3 cups. Make sure to use organic ingredients, because you don't want any toxic chemicals and pesticides in your "hummus". Oh, and leave the skins on the zucchini, that's where the fiber and phytonutrients live and you definitely want those nutrients inside…not in the compost!
2 C zucchini squash, large chop
1/2 C sprouted sunflower seeds
1 clove garlic, large chop
2 T extra virgin olive oil (first cold pressed)
1 organic lemon juice (fresh squeezed)
2 tsp mineral salt
filtered water to create desired consistency
2 T Cured black olives (in oil), chopped
DIRECTIONS
Place all ingredients in blender and blend on low first. Using the blender plunger attachment, keep ingredients moving. Increase the speed gently and add water to your desired consistency. Blend until completely smooth. Garnish with chopped dried black olives.
OPTIONAL INGREDIENTS
For a savory twist, add 2 T soaked sundried tomatoes.
For a Caribbean twist, add 1/4 tsp of each – cumin, coriander and a pinch of cayenne. Garnish with golden hunza raisins.
For a detoxification boost, add 1/4 tsp each of kelp flakes and the best Blue Green Algae you can find.
BUSY PEOPLE TIP : This one is so easy and quick it hardly needs prep, but feel free to wash and prep your veggies the night before, keep them in an air tight glass container in the fridge.
UPCYCLE TIP : Whatever left over zucchini you have, you can cut into rounds, season with salt and pepper and dehydrate for 36 hours to make raw zucchini chips.
RECYCLE TIP : Grow your own in your back yard garden, if you live in a place with warm summers. That way, you can control what goes into the soil, water and ultimately, your tummy! Any scraps can be composted with other food waste or composted for worms.
NUTRITION TIP : Zucchini is abundant in vitamin C and vitamin B-6, and minerals like phosphorous and magnesium.
BOTANY INFO : (Curcurbita Pepo) The zucchini, or also known in French circles as the courgette, is a summer squash that can be dark or light green in color and is a great addition to a home garden.   
Source:
http://en.wikipedia.org/wiki/Zucchini